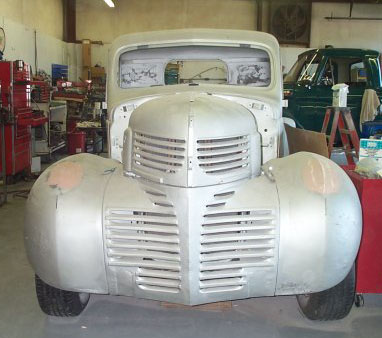 Get rid of the pits! Mastercoat® Permanent Rust Sealer/Surfacer is one of the most powerful primers in the world. It's the only type of primer that is air tight. In marine salt spray tests, nothing outperforms it. This product is used on everything from bridges to antique cars. Anywhere that rust is a problem, Mastercoat® prevents it from recurring. Mastercoat primer is ideal for frames, floor pans, window channels, and especially under chrome molding clips. Mastercoat, when scratched, the rust will not travel beyond the scratch! Anywhere in your restoration where you're on shaky ground, two coats of Mastercoat® silver is the answer.
NEW! NOW INTRODUCING MASTERCOAT® EXTREME FOR THE HEAVIEST PITTING!
Higher build Mastercoat® EXTREME fills in the deepest pits. It's also toothier for topcoat adhesion! Thick paste-like consistency for deep pitting. Do you find using metal body fillers time consuming and tedious? Mastercoat EXTREME® has you covered. It's as easy as reducing and shooting through your gun to fill in those pits, even in contours. $42.95 per quart. Scroll to the bottom to order! Note: Do not apply Mastercoat® EXTREME when it is very humid outside. Apply THIN coats for best results.
Lower 48 USA orders only! NO PO BOX ADDRESSES PLEASE!
| 1 qt: $39.95 | |
| --- | --- |
| 2 qt: $74.00 | |
| 3 qt: $105.00 | |
| 4 qt: $128.00 | |
| NEW MASTERCOAT® EXTREME! $42.95 PER QUART | > |