INTRODUCING OUR MASTERCOAT® AG2000 SUPER FINISH! Scroll to bottom of page to order.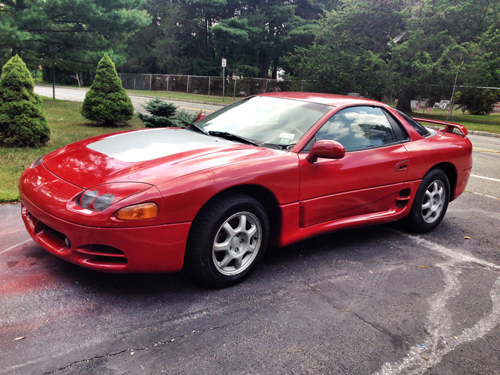 Mitsubishi 3000 GT primed with Mastercoat® Permanent Rust Sealer, painted with Urekem metallic red base coat, and coated with AG2000 super finish in clear.
Mastercoat® AG2000 Super Finish is for those of you who are disappointed with the performance of your standard automotive clear coats. For instance, have you dragged an air hose over your fender to find out you scratched the car? We now offer this aircraft grade clear, which is formulated for great weatherability, performance, and durability at a low cost. This coating is also used as an anti-graffiti paint. In other words, if you were to get overspray on AG2000, you can remove the overspray with medium grade reducer without harming the clear coat. It works well over many base coats (spot testing is always recommended). It is also recommended as a fleet finish for commercial vehicles, trailers, and any type of equipment exposed to hostile environments. The high solid content provides excellent coverage and hide, giving you great value. AG2000, when reduced, sprays nicely, and sands and buffs easily to a high gloss finish. Also available in satin finishes, such as hot rod satin black.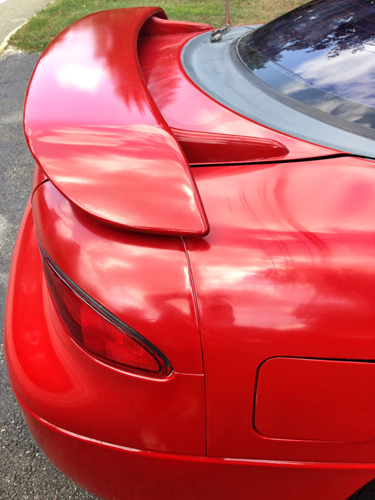 – Ideal fleet coating for trucks, trailers, and heavy duty equipment
– High solid content / more value for your money
– Sprays out beautifully
– 4:1:1 mix ratio with a 1.6 range tip
– Fast drying–less than 30 minutes, depending on reducer
– Can be sanded and buffed easily
– Excellent chemical, acid, and chip resistance
– Can be used as an anti-graffiti coating
– Available in gloss black, hot rod satin black, and clear
– Fleet colors upon request (Email us.)
– Gallons include hardener
LIMITED TIME SALE! One gallon (includes hardener) of HOT ROD SATIN BLACK AG2000 with a quart of thinner for only $149.00. Very limited quantity. Special rate only while supplies last.
INTRODUCTORY PRICE! $139.00 per gallon for clear
$159.00 per gallon for blacks
Includes hardener. 4:1:1 mix ratio with 1.6 range tip. Also includes one quart of thinner.
Equal to five quarts. Covers approximately 450 square feet.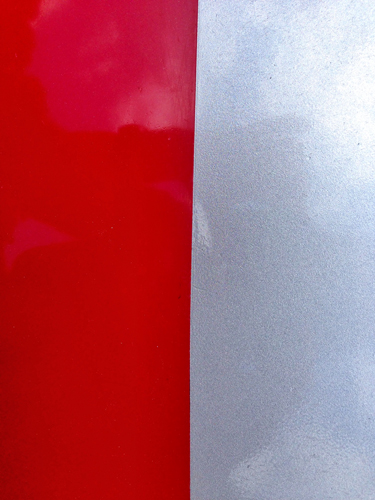 AG2000 clear over Urekem bright red next to our Mastercoat® Permanent Rust Sealer.
**AG2000 IS MANUFACTURED TO ORDER. MAY TAKE 2-4 WEEKS TO SHIP.**
Lower 48 USA orders only
No PO Boxes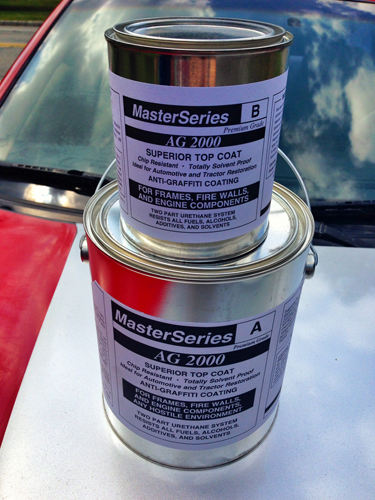 One gallon of AG2000 with hardener. Not pictured: one quart of thinner.