There is nothing out there that compares to our AG111 for your chassis. It will take 14,000 hours of salt spray, 90 days immersion in acetone without softening, and will not rust beyond a scratch. Compare that to KBS, POR-15, or any other.

Beginning in 1976, all through the mid-80's, a fleet of 6500 NYCTA subway cars were coated with AG111 to combat the corrosion and graffiti problems. After 18 months of testing, AG111 was the only coating that could withstand repeated vigorous scrubbings and washings with heavy bristle brushes and strong solvents. Seven enclosed car wash facilities washed 400 cars a week. A solvent/alkali cleaner was sprayed on and allowed to soak 5-8 minutes. The car then passed through a wash machine where it was thoroughly scrubbed and put through three rinses.
AG111 cures to a hard mirror-like finish, which other paints cannot penetrate. According to the NYCTA spokesman, after the 18 month test, the subway cars retained their gloss and shine after each washing, and all traces of graffiti disappeared. "The cars looked like they had just been through the paint shop," the spokesman said.
A complete chassis kit in either satin or gloss is only $79.95. Includes AG111, primer, and a full quart of thinner. Scroll all the way to the bottom to order!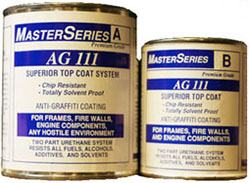 NOW INTRODUCING AG111 EXTRA! NOW YOU CAN GET ONE FULL QUART OF "A" AND ONE FULL 8oz. OF "B", WHICH IS EQUAL TO A QUART AND A QUARTER OF AG111!*  ONLY $59.95 AND IT COVERS APPROXIMATELY 160 SQUARE FEET!
*Please note: The "quart" sized quantities of AG111 are pre-measured to equal one quart. You will receive an "A" part and a "B" part, which are pre-measured for a 2:1 ratio. When you pour "B" into "A", together they equal one quart, which will cover approximately 120 square feet.
Mastercoat® AG 111 High Performance UV Stable Finish Paint is the ultimate in high performance finishing paints! The uses for this paint are endless! Besides automotive restoration, this paint has seen service in every conceivable hostile environment from wrought iron railings to the Pittsburgh Homestead High Level Bridge! It is a two part urethane that is available in gloss black, satin black, clear, red, white, and gray. This is the ideal finish for firewalls, frames, wheel wells, and any other hostile environment. Mastercoat® AG 111 has non-yellowing, non-chalking combined with excellent gloss retention and will retain a high gloss through many years of service. It is widely used as an anti-graffiti paint for mass transit vehicles as a topcoat for structural steel and bridges, industrial floor coating, high performance architectural applications. Two coats of the Mastercoat Permanent Rust Sealer Primer and one coat of AG 111 will withstand 14,000 hours of salt spray! AG 111 is also one of the most powerful anti-chemical coating systems available. AG 111 will withstand 90 days immersion in acetone. See accompanying product data sheet.
If you would like to order a color other than black satin or black gloss, please call 1-800-833-8933 or email us at pmmasterseries@gmail.com. AG111 only available in safety colors, which are red, white, and gray. AG111 colors are $49.95 per quart with hardener. Sorry, we no longer have tractor colors.
Lower 48 USA orders only! NO PO BOX ADDRESSES PLEASE!
2 qt: $94.00
3 qt: $135.00
4 qt: $168.00
MCT101 Thinner: $14.00/qt
AG111 Chassis Kit $79.95
AG111 Super Special Kits include 1 quart of MasterSeries Permanent Rust Sealer, 1 quart of AG111 with hardener, and one quart of MCT101 thinner.