Designed for the subway systems where graffiti and corrosion are major problems, our super durable and UV stable AG111 is unsurpassed for chassis protection. Use Mastercoat Permanent Rust Sealer as a primer and AG111 as a topcoat and nothing compares. One quart of each does an ENTIRE ROLLING CHASSIS!
SPECIAL! MASTERCOAT® ULTIMATE CHASSIS KIT AVAILABLE FOR $79.95. Includes QUART of AG111 with hardener, QUART of Mastercoat® Sealer/Primer/Surfacer, and QUART of MCT101 thinner.
The Mastercoat® Difference. Mastercoat® Primer / Sealer / Surfacer Stops Rust Longer Than the Others & Improves Your Body Work Dramatically.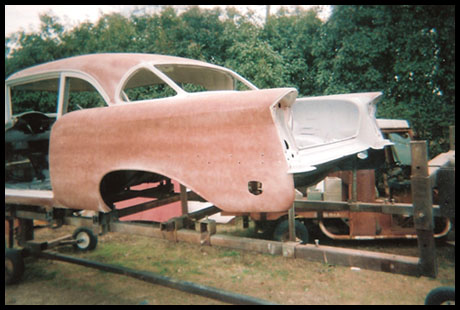 1957 Oldsmobile J2 completely primed inside and out with Mastercoat® Permanent Rust Sealer/Surfacer/Primer then finished with a gorgeous jet black paint job, showcased at Hershey. Photo courtesy of Vintage Auto, Fort Mill SC.


Unlike the competition, sunlight is not a problem for Mastercoat®.
What makes Mastercoat® different than the others? Click here to find out!
The MasterSeries Coating Line was founded in 1988 because we wanted the most powerful rust sealers and topcoats in the world. Our permanent rust sealer has demonstrated for the last 30 years that nothing outperforms it in salt spray tests. Our salt spray tests run from 8000 to 14,000 hours. Our AG111 anti-graffiti subway coating withstood constant washing with solvents and alkali cleaner, when used on NYCTA subway cars. At the end of 10 years, the subway cars still maintained a high gloss and color retention.  This is excellent for chassis and underbody protection on any vehicle.
Stops rust permanently and levels heavy pitting…GUARANTEED!
"The best bar none!" – Auto Restorer Magazine, June 2000.

NEW PRODUCTS! We have high grade premium industrial floor coatings in both epoxies and urethanes, with and without flakes, and anti-slip at prices below the competition. Call us or email us for information and ordering!
We can ship to Canada! Please email us for rates.
Feel free to contact us with any questions, comments, or suggestions. You can email us at pmmasterseries@gmail.com or you can call us at 1-800-833-8933 from 9am-5pm EST. Dealer inquiries welcome.