GET RID OF THE PITS!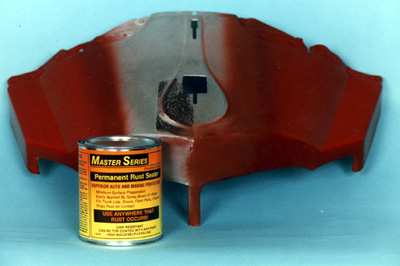 \
This 1938 Packard radiator shell was severely pitted under the hood ornament. Three coats of Mastercoat® Permanent Rust Sealer Silver followed by lacquer primer and paint, produced a flawless, show quality finish. Mastercoat® Silver is the ONLY type of moisture cured urethane that is air tight! Resin blocks the moisture, and aluminum pigment cuts off the oxygen. Unlike the others, Mastercoat® Silver is also UV STABLE, paintable, sandable.
Mastercoat® Permanent Rust Sealer/Surfacer/Primer is the ultimate in corrosion protection. This primer/surfacer/sealer is the only type that seals the metal with both a moisture and oxygen proof barrier, where new rust can't form and old rust can't continue. Aside from its heavy corrosion resistance, it's surfacing abilities are second to none. In body work, it will hide a multitude of sins like pitting, sand swell marks, and putty that's not quite perfect. If you're an amateur body man or professional alike, Mastercoat® Permanent Rust Sealer/Surfacer/Primer can make the difference, and it saves time and work. Unlike epoxies, Mastercoat® Primer will run thousands of hours of salt spray resistance. Automotive epoxies will generally run 500-1000 hours. Many shops use our primer as a base to prevent comebacks. Buy Mastercoat® Primer here!
NEW! Now introducing our higher build version of Mastercoat® Permanent Rust Sealer: Mastercoat® EXTREME for the deepest pits! It's also toothier for topcoat adhesion. It has a paste-like consistency for deep pitting. Do you find using metal body fillers time consuming and tedious? Mastercoat EXTREME® has you covered. It's as easy as reducing and shooting through your gun to fill in those pits, even in contours. $42.95 per quart. Buy it here!